Bear Much Fruit
By Evan Bartholomew, Lead Minister.
"I am the true vine, and my Father is the gardener. He cuts off every branch in me that bears no fruit, while every branch that does bear fruit He prunes so that it will be even more fruitful…. This is to my Father's glory, that you bear much fruit, showing yourselves to be my disciples." John 15:1-8 NIV.
God has always intended for His people to "bear much fruit." Just nine generations after the creation of the earth, "the Lord saw how great man's wickedness on the earth had become, and that every inclination of the thoughts of his heart was only evil all the time," (Genesis 6:5 NIV) Because of this, God sent a destructive flood that decimated all the inhabitants of the earth. Only the righteous Noah and his family were saved through their faith and obedience to God. When the waters subsided, Noah and his family emerged from the ark and God had set a new task for them: "As for you, be fruitful and increase in number; multiply on the earth and increase upon it." (Genesis 9:7 NIV) Centuries later, Jesus came down to earth to "to seek and to save what was lost." (Luke 19:10 NIV) After devoting three years of daily ministry to training His twelve chosen apostles, Jesus commands them in His last recorded words before leaving earth, "go and make disciples of all nations, baptizing them in the name of the Father and of the Son and of the Holy Spirit, and teaching them to obey everything I have commanded you. And surely I am with you always, to the very end of the age." (Matthew 28:19-20 NIV) As we would say it, Jesus commanded them to "bear much fruit."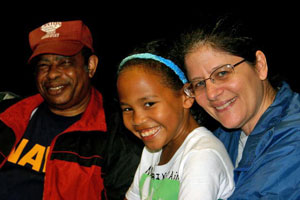 The Robinson's had fun at the Fourth of July campout! (photo by Evan Bartholomew)
Interestingly, many disciples have mistakenly replaced Jesus' command to "bear much fruit" with "sharing their faith." Absolutely, sharing your faith is a vital component of bearing fruit. It holds within it, perhaps, the most vital and pleasing-to-God part of bearing fruit – the effort. Yet, something is left out when Jesus' command is replaced with this half-true human interpretation. If Jesus' command is that we "bear much fruit," and not just share our faith, than there is another type of effort that must be made as well. That is, the effort to become effective at making disciples. When Jesus first called His disciples, He said, "and I will MAKE you fishers of men." (Mark 1:17 NIV) Jesus expected His disciples to be learners of how to be effective fishermen.
Throughout my eight years as a disciple, I have read many books, heard great numbers of sermons preached, and even listened to countless evangelists share their secret formula-like methods after a "hot streak" of baptisms on how to "bear much fruit." Many of us constantly think about how we can become better soul-winners. And so often, we think the answer is "just work harder." In many cases this is true, but there are other aspects of bearing fruit that must also be considered. Jesus was undoubtedly the most effective teacher that a disciple could ever hope to learn from. He trained the world's most effective evangelists for three years, and then disappeared back up to heaven as they continued His work here on earth. How did they learn to be so effective so quickly? The Bible records Jesus sending them out to preach with these words, "the harvest is plentiful, but the workers are few. Ask the Lord of the harvest, therefore, to send out workers into His harvest field. Go! I am sending you out like lambs among wolves." (Luke 10:1-3 NIV) There are four things that Jesus taught in this statement to set His disciples up for successful fruit-bearing.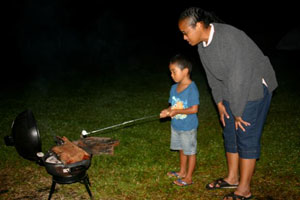 Tanya and Austin roast mallows in the hibachi! (photo by Evan Bartholomew)
"The harvest is plentiful." – What a surprising statement this must have been for the disciples. When I was growing up, I vividly remember a guava orchard next to my house. It wasn't very well maintained, and seemed as if it had been forgotten for quite some time except for an occasional visit from the owner of the orchard. In spite of their neglect, the guava trees produced fruit quite regularly. Sometimes, we would tromp through trails we had made and visit the orchard ourselves. Frequently, the orchard had been so ignored that the ground beneath the trees was littered with rotten fruit that had fallen off the trees – fruit that was so abundant that no worker could keep up with the picking. In Jesus' mind, there were so many people who were ready to be picked. The earth was littered with them. But the disciples needed to have faith that they were out there. When Jesus visited His hometown, the Bible says, "He could not do any miracles there, except lay His hands on a few sick people and heal them. And He was amazed at their lack of faith." (Mark 6:5-6 NIV) Every time a soul is saved through the water's of baptism, God is performing a modern day miracle. However, miracles are never performed in the absence of faith. We must have faith that "the harvest is plentiful."
"The workers are few." – Interestingly, Jesus does not use the word "disciples," but "workers." Although every disciple should be – by definition – a worker, Jesus understood that there are many that make the claim of being a disciple, and yet, don't participate in the work. This is the "effort" part of making disciples. A fisherman who never raises his pole with a baited line and hook dangling in the water has little hope to catch any fish. Yet, ironically, there are many people who will go fishing for the social aspects of sitting around and hanging out with their friends while others fish. Sadly, the same is true in God's kingdom. Far too many are cheerleaders instead of workers! They cleverly find reasons not throw their evangelistic line into the water, but insist on being a part of the "group." Jesus saw that one of the problems behind an unfruitful group was not that the harvest was not plentiful, but that the workers were few. Jesus' expectation for every disciple was that they must be a "worker."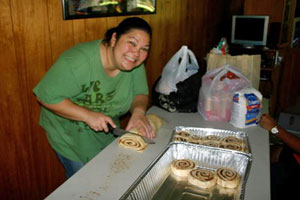 Tina finishes the cinnamon rolls — they tasted great — with much excitement! (photo by Evan Bartholomew)
"Ask the Lord of the harvest." – Almost every conversion story I've ever heard has an amazing supernatural aspect to it. It is always entertaining to hear how God has moved in someone's life so powerfully that their eyes were finally opened to His word. We understand that, "From one man [God] made every nation of men, that they should inhabit the whole earth; and He determined the times set for them and the exact places where they should live. God did this so that men would seek Him and perhaps reach out for Him and find Him, though He is not far from each one of us." (Acts 17:26-27 NIV) But, so often, we fail to ask God to move in individual's lives. We fail to "ask the Lord of the harvest." One of the most inspiring things that the brothers and sisters shared with me after my baptism in 2001, was that they had personally been praying for me while I had been studying the Bible. Who was I to receive so much support? More so, who was I without the power of God to help me through the challenges of repentance, persecution, and a bitter ex-girlfriend? Jesus instilled in each of His disciples the commitment to evangelism, but also the commitment to their relationship with the Lord! He made sure that they remembered to "ask the Lord of the harvest…"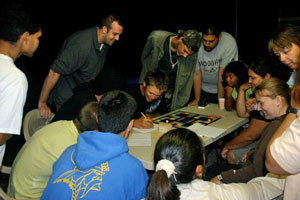 A group game of Pictionary caps off the night! (photo by Evan Bartholomew)
"Go!" – Simple, yet so challenging, was Jesus' final command to His disciples. The phrase, "Go!" is found by itself three times in the whole Bible. In both of the other instances, it is also used by Jesus. It is used once when Jesus ordered the legion of demons out of the demon possessed man. (Matthew 8:32) Then it is used again as the resurrected Jesus sends a reluctant Ananias to find and baptize the dangerous persecutor, Saul. (Acts 9:15) Both times, the word is used in the presence of fear from the people Jesus is speaking to. Therefore, it is safe to assume that the disciples were probably fearful about being sent out into the harvest field. This is evident by Jesus words directly after, "I am sending you out like lambs among wolves." (Luke 10:4 NIV) Going, in spite of fear, is a trademark of Jesus. In His greatest act of service toward mankind, Jesus fought through His fearful feelings through prayer for three hours until His "sweat was like drops of blood falling to the ground." (Luke 22:44 NIV) Like Jesus, His disciples also took on that same trademark: "When they saw the courage of Peter and John and realized that they were unschooled, ordinary men, they were astonished and they took note that these men had been with Jesus." (Acts 4:13 NIV) It was their courage that evidenced their walking with Jesus. As Paul said to Timothy, "For God did not give us a spirit of timidity, but a spirit of power…" (2 Timothy 1:7 NIV) Jesus fought fear, and so His disciples must also fight fear and "Go!"
With Jesus' charge to His disciples, they all went off in pairs to fulfill what they had been called to do. The Bible doesn't record how long they went out sharing, or how many people started "studying the Bible" from this one episode. However, when the disciples came back, it says, "The seventy-two returned with joy and said, 'Lord, even the demons submit to us in your name.'" (Luke 10:17 NIV) The disciples, fresh from victory, were filled with joy and a sense of amazement from seeing God work so powerfully through them! This same power is available to us today, but four questions must be asked: Do you believe that "the harvest is plentiful"? Are you a "worker"? Have you been "asking the Lord of the harvest"? And are you willing to "go!" As we all strive to bring our father glory, let us think about these four questions, and "bear much fruit!" To Him be the glory!